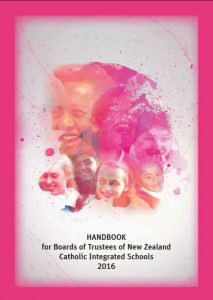 This handbook is intended to help Boards of Trustees focus on those aspects of a state-integrated school that differ from a standard (non-integrated) state school.
It is focused on Catholic integrated schools, but is useful for all integrated schools. It provides current guidelines and sets out current policies. It is not a legal document and should not be read as such. This document may be printed out as a whole or in sections as needed. The appendices to this handbook contain a variety of very useful documents and forms from a range of sources.
Click here to download PDF for printing or view using the PDF viewing tool below.
BOT 2016 amended 23 July 2018-screen