Haere mai, Welcome, 歡迎, Talofa lava, , Malo e me'a mai, Maligayang pagdating
The Association of Proprietors of Integrated Schools (APIS)  represents proprietors of all New Zealand's Integrated Schools. The Government recognises the Association as the official negotiating body for matters affecting Integrated Schools in general.
Review guide
Quick guide to effective governance in your state integrated school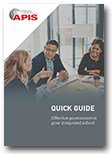 Are you new to the board? Are you the Proprietor's Appointee?  Check out this quick guide to effective governance which includes links to key documents and sources of advice and support about your role on the board.
Review guide
Erika Fairweather, Kavanagh College, Dunedin, won a gold medal in the 200m freestyle race at the Junior World Swim championships. To see her on TVNZ sports click here St Peter's College, Auckland won a gold award at the [...]